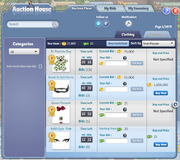 The Auction House is a feature fully released in early January 2013, although it began gradual release in November 2012. It allows players to place their items up for auction, and also bid on items they are looking for. It was updated in March 2013, with premium auctions, cash auctions and an improved filter.
You can only have 5 items up for auction at once.
In-game there is a FAQ and tutorial on how to use the Auction House.
Auction Floor
This is the area in the Auction House where players can bid for items they are looking for. You can either bid with coins, or with YoCash. The Floor is split into two sections, Clothing and Furniture. There is a search bar where you can type in the name or part of the name of the item you are looking for. You can also choose to only find items from a certain category, e.g. if you are searching in the clothing area, you can select "Shirts" and only shirts will appear on the list.
There are also different ways of sorting the results.
Most Popular: displays items with the most bids first.
Coins High to Low: displays coin auctions with the highest price first.
Coins Low to High: displays coin auctions with the lowest price first.
Cash High to Low: displays cash auctions with highest price first.
Cash Low to High: displays cash auctions with the lowest price first.
Ending Soon: displays items in order of end time.
As well as all the above, there is the option to "Buy Now" an item, meaning you buy it instead of bidding. The Buy Now price is set by the seller of the item and not all items are put on the auction with a Buy Now option.
After the update in March 2013, you can now make your auction a premium auction. This means that it will appear before all other auctions will have more chance of being bid on. The cost from a premium auction is 1 YoCash per hour, so if you had a 3 hour auction, it would cost you 3 YoCash to make it premium.
After the same update, filter controls were improved, so you can now tick a box to only show items with at least one bid on.
My Bids
The My Bids area is to help you know about items you are bidding on, items that you are currently selling, and also items of yours that have sold.
In the bidding section, it lists all the items you are bidding on, their current price, and also if you are the highest bidder or not. 
In the selling section, all the items you have put up for auction will be listed. It will list the current price and how many bids each item currently has.
In the sold section, all auctions that have ended will be listed and you can see how much your items sold for. Remember that when an auction ends, Zynga will take 10% of the total coins you make, leaving you with only 90%. This also applies for cash, where a 20% commission is taken once your item has sold.
My Inventory
This is the area that you set up all your auctions. You first scroll through your inventory to find the item you want to place on auction (or use the search bar) and then fill in all the details about the auction, including the duration, the starting price, and whether or not you want to put on a Buy Now price for the item.