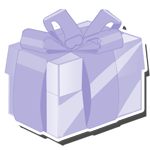 Badges
, as a feature was released sometime in February 2009. They reward users for various different tasks in-game. There are five tiers to each badge. Respectively and in order, the tiers are bronze, silver, gold, emerald, and diamond. Badges also have small icons that appear in a user's nametag.
Two certain badge types can no longer be obtained, these are the "Treasure Hunter" and the "Web Shopper" collections. They could originally only be obtained through YoVille.com, which is no longer up.
Name Badges
After collecting a certain amount of badges in-game, your name tag begins to display medals, these display how far you have advanced in collecting badges, there are 3 levels, pictures of them can be found below.
There is also a list of all badges in the game and the requirements to obtain them, below.
List of Badges
Below, a list has been created of the tasks needed to collect each badge.
| Description | Bronze Badge | Silver Badge | Gold Badge | Emerald Badge | Diamond Badge |
| --- | --- | --- | --- | --- | --- |
| Spend coins in any store. | Frugal Friend - 2,500 YoCoins | Shopaholic - 10,000 YoCoins | Money Bags - 25,000 YoCoins | Big Pimpin' - 50,000 YoCoins | Rockefeller - 100,000 YoCoins |
| Give gifts to other YoVillians. | Generous Gifter - 5 gifts | Gift Rapper - 15 gifts | Big Sender - 40 gifts | Make it Rain - 100 gifts | Who is Your Daddy - 250 gifts |
| Buy items at the Clothing Store. | Budget Fashionista - 3 items | Simply Stylin' - 10 items | Trendsetter - 30 items | Haute Hottie - 50 items | Red Carpet Ready - 100 items |
| Buy items at the YoDepot. | Junior Contractor - 3 items | DIY'er - 10 items | Renovation Nation - 3 items | Extreme MakeOver - 50 items | Living Large - 100 items |
| Buy items at the Furniture Store. | Cardboard Casa - 5 items | Home Improvement - 15 items | House Flipper - 40 items | Mansion Expansion - 100 items | Cribalicious - 250 items |
| Visit Friends. | Shut In - 20 visits | Out and About - 100 visits | Social Butterfly - 200 visits | Life of the Party - 300 visits | Friend to the End - 600 visits |
| Win YoMotoX races at the Speedway. | One Win Wonder - 10 wins | Racetrack Rookie - 50 wins | Wheels of Steel - 100 wins | Wheelie Wiz - 150 wins | YoMoto Master - 300 wins |
| Buy items at YoVille.com. | lurning teh internerts - 5 items | LOLshopping - 30 items | Cyberstud - 100 items | Net Tycoon - 250 items | Master of the Interwebs - 500 items |
| Open Rares from any Mystery Pack | Lucky Duck - 5 rares | Fortune Finder - 10 rares | Rare Magnet - 25 rares | Horseshoe Hero - 50 rares | Master of Mystery - 100 rares |
| Find gold pots on YoVille.com profiles. | Gold Digger - 20 pots | Treasure Hunter - 100 pots | Gold Smith - 200 pots | Tomb Raider - 350 pots | The Gold Standard - 600 pots |
| Spend days decorating. | Triple Play - 3 days | Six Pack - 6 days | Deco Designer - ??? days | Double Dime Design - 20 days | Marathon Month - 30 days |
| Fully decorate rooms. | One Room Down... - 1 room | Got the Hang of it - 4 rooms | 'A' for Effort - ??? rooms | Super Designer - ??? rooms | Master Decorator - 20 rooms |
| Fully decorate a home | New Homeowner - 1 house | Proud Homeowner - ??? houses | Vacation Homeowner - ??? houses | Real Estate Mogul - 6 houses | You own this City - 10 houses |