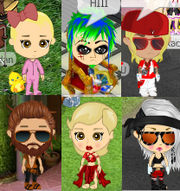 From the beginning of its time, YoWorld has been a door into a large universe filled with many diverse players. Players who play for different reasons, and different purposes! 
Welcome to the Types of YoWorld Players category!
Brace yourself, because you are about to take a step into the universe of players that is YoWorld. On this section of the Wikia, you will be able to learn about the many kinds of personalities you may encounter in YoWorld. This part of the wikia is filled with the knowledge of many!
This is not even all of the types of players that play YoWorld! The possibilities are endless!
What kind of player are you?
Please feel free to edit and contribute to any of the pages on this category, as well as on the rest of this wikia!
Pages in category "Types of YoWorld Players"