Chips are a food item available to be purchased in the catalog at the Beach.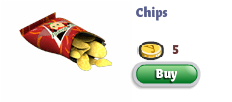 About
chips is one of the items available in the beach store. chips when purchased do not go to the players inventory, Chips are automatically consumed. In the past you would be given energy to do actions. Since energy for actions is no longer needed these items have became obsolete.
Cost
The cost of chips is 5 YoCoins.