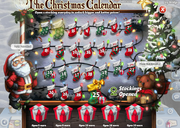 The
Christmas Countdown
was a holiday calendar beginning on December 1st, 2015. The feature consists of a calendar and as players log in through the month, they get to claim rewards. Players would login in every day to collect a reward of
YoCoins
and
YoPoints
. On specific days, players would be able to collect an extra clothing or furniture prize for logging on on that day.
If a player were to miss a day, they could catch up at the expense of YoCoins.
Prizes
Ad blocker interference detected!
Wikia is a free-to-use site that makes money from advertising. We have a modified experience for viewers using ad blockers

Wikia is not accessible if you've made further modifications. Remove the custom ad blocker rule(s) and the page will load as expected.