The Coffee Shop is a store where players used to be able to purchase coffee for their YoWorld character using YoCoins or YoCash. Coffee gave your YoVille character more energy. Items were available individually, but it stopped selling when energy was no longer required to do actions in early 2010.
The Coffee Shop serves a similar function to Vinny's Diner, now. It no longer serves food or drinks but is still used as a hangout. 
Exclusive Concept Artwork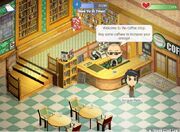 Below are three original artworks of the Coffee Shop, back before the game's release. Picture 1 bears the closest resemblance to the final design. Images courtesy of Big Viking Games. Images are dated 20th January 2008. The Coffee Shop was going to be called the "Coffee and Book Store", hinting towards a bigger focus on books, although this was dropped before the game's release and was just called the Coffee Shop. This does, however, explain the large bookcase inside, and the book symbol on the exterior.
This is an Picture of the current outside. Notice the lady planting flowers and the tree trying to cover up the book sign.
Gallery
Below, you will see a assortment of three concept images of the coffee shop, before it was officially designed.
Ad blocker interference detected!
Wikia is a free-to-use site that makes money from advertising. We have a modified experience for viewers using ad blockers

Wikia is not accessible if you've made further modifications. Remove the custom ad blocker rule(s) and the page will load as expected.