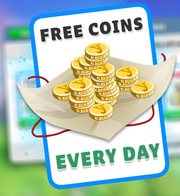 Daily Login Bonuses received an update on May 16, 2017. The new system was modeled to reset every seven days, and the base of YoCoins rewarded to the player for logging in, would multiply with each passing day of a player logging in.
The base amount of YoCoins you get is based on your level.
Rewards
The seven-day track would multiply like so, as the following:
Day One (1x)
Day Two (1.5x)
Day Three (2x)
Day Four (3x)
Day Five (4x)
Day Six (8x)
Day Seven (20x)
Not logging in one day will reset the counter back to day one.