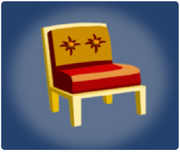 Decorating
is a feature on YoWorld which has been here since the start of the game. It allows you to buy furniture items from the
Furniture Store
, and then put them in your rooms. It is something that a lot of players find fun to do, and lots of YoWorld players can be called "Professional Decorators". Decorating is one of the main purposes for this game, and is a huge feature.
House Tours
Before, house tours were very popular, and they were usually held as events. Basically, this was entering someone else's house and touring it, and at the end you would give the owner feedback. This was usually done for room ratings, a popular feature that was removed a while back in 2009. House tours still happen, and can be found in the "Grand Opening" section of events.
Room Decorating Contests.
Before, on Yoville.com there would be a room decorating contest that would be held once per theme. The winners of the contest would be able to win the newest yocash home for free! Sadly, these contests started to become rare and the developers stopped having them completely. Also, from time to time there were one or two room decorating contests on the official Yoville Forums.
Decorating contests have returned to YoWorld and can be found on the YoWorld Forums.
Ad blocker interference detected!
Wikia is a free-to-use site that makes money from advertising. We have a modified experience for viewers using ad blockers

Wikia is not accessible if you've made further modifications. Remove the custom ad blocker rule(s) and the page will load as expected.