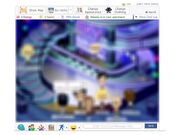 Dizzy Drinks 1.0
was a feature originally introduced in 2008, which allowed the player to buy alcoholic drinks from the 
Sky Nightclub
 and become "dizzy". The effects of dizzy drinks meant the screen turned blurry and your avatar couldn't walk in a straight line.
Removal
The feature was removed in June 2009, Zynga explained that the reason to it's removal was because they were told to do so by Facebook, as players under 18 were now being allowed to play the game.
Ad blocker interference detected!
Wikia is a free-to-use site that makes money from advertising. We have a modified experience for viewers using ad blockers

Wikia is not accessible if you've made further modifications. Remove the custom ad blocker rule(s) and the page will load as expected.