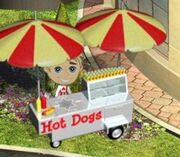 The 
Energy
feature was released in 2008 and removed in March 2010. It's intention was to add a sense of realism to the game, although it was disliked by many.
The feature meant that with time, your energy went down. If you performed an action it would cost energy. Walking also costed energy. The less your energy was, the less you could do and the slower you walked. To restore your energy, you would need to buy food at Vinny's Diner, the Coffee Shop or the Beach store. Although these food items typically costed less than 10 coins each, players didn't like having to buy food all the time, and hated the slow walking that would come with low energy.
When YoWorld got its huge update in March 2010, the energy feature was removed. Although this was good for players, it meant places such as Vinny's Diner and the Coffee Shop served no purpose in the game any more.
Trivia
Another energy feature was introduced in June 2010, although this one was only used for working in the factory or doing jobs.
Whenever a player was on low energy, a picture of a sandwich would appear above them. Hackers can produce this sandwich icon by editing the game's code, although the sandwich does nothing but look nice.
Food items can still be bought at the beach store, although when bought nothing happens and they don't give you energy or appear in your inventory. Your coins still get spent though.
Ad blocker interference detected!
Wikia is a free-to-use site that makes money from advertising. We have a modified experience for viewers using ad blockers

Wikia is not accessible if you've made further modifications. Remove the custom ad blocker rule(s) and the page will load as expected.