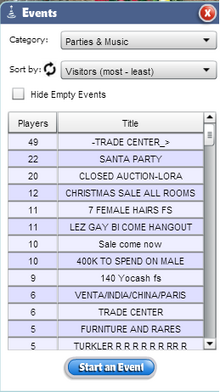 Events are one of the most used features in the game today, its been around since YoWorld first started. What it is is just you being able to host parties, sales and other types of events in your own home, this will allow other players who click on your event from the events list to travel to the room to where to event is held, they will then join the same room as you are in, you can then interact with the other player and make new friends.
Each event costs 100 YoCoins to post.
On December 5, 2014, the event's list was updated, and given tons of more features to use. Players were given the ability to see how many players were at each event, as well as see the full player name and picture of the host of the event. A check box around the top allows player to hide events that are currently empty, and have no players.
Categories for events are still present, and players were also given the ability to sort events in various orders, such as least to greatest by amount of visitors. Players still had the ability to report events.
Reporting Events
On May 30, 2014, a feature was added so that players could report any events that violated any rules without having to attend the event itself.
The Events List
The events list is the list from which events can be seen and traveled to from. Once you make an event it will appear on the events list and people will be able to click on it and visting you! New events are always shown at the top, with older events falling to the bottom of the list. Hovering over an event name will give you the description, the name of the owner, and how long is left before the event expires (as long as it doesn't 'fall' off the list beforehand). Events will last up to 20 minutes before having to be reposted.
The different event sections:
Parties and Music
People often hold parties here.
Lots of sales also take place here (even though they should be in trading).
"Turklers" are held here.
Trading
This is where sales are held.
Open auctions and trade centers are also found here.
Jobs
You may be able to find a paying job here (from other players).
Small trade centers are often held here.
YoBabies and adoption centers are common.
Games
Contests may be held here, like Pageants and Musical Chairs, for prizes.
Other players hold events to "max" you.
Debates and Discussions
Serious topics may be talked about, such as religion.
Large groups of people may meet up to talk here.
Grand Opening
Where players can showcase their homes!
Small, cheap sales are also held here.
Dating
Many events are held here looking for a YoWorld boyfriend or girlfriend.
Inappropriate events are held here.
Performance
A category used for something completely different to its name.
People make an event here to meet up with somebody (like two people meeting up from the forums or a Facebook page).
They are mostly private events, and it is considered rude to just "show up".
Many dodgy events are held by hackers, and these are worth staying well away from.
Any real "performances" are usually held in Jobs or Games.
Sales
When people sell items they usually make an event so that it makes it easier for them to sell items! Some sales can be up to three rooms big, and at times as full as a house.
Ad blocker interference detected!
Wikia is a free-to-use site that makes money from advertising. We have a modified experience for viewers using ad blockers

Wikia is not accessible if you've made further modifications. Remove the custom ad blocker rule(s) and the page will load as expected.