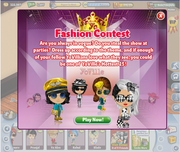 Fashion Contest (Project name YoMag 2.0), is a feature released in March 2013. This feature replaces the YoMag feature. It allows you to dress up according to a certain theme, and enter a contest with other YoVillians. Players then vote for their favourite costumes and the winners will get a prize. 1st place gets a special item prize, such as a hair or collectible, and 2nd - 25th get a YoCash item as a prize, often of high YoCash value.
This feature aims to let anyone dress up and have a chance of winning! 
The feature was announced on 28th February 2013, and was said to be released shortly after that, and progessively to all players. This feature was released to all players a few days after its announcement.
As of May 2014, the feature is currently disabled, believed to come back soon.
How it works
There are many different parts to this feature, which help make it look very exciting.
Themed Contests
There will be many contests where players can dress up according to a theme, such as "Mob Romance".
These contests last for three days, and after that you cannot enter or vote until the next contest. 
Hottest Trends
When you post your costume, it will appear on the "Newest" tab, and people can vote for it.
When you get quite a few votes, you appear in the "Trending" tab.
Once you get many votes, you make it into the "Hottest" tab. Only 25 costumes make it here.
Best of 15 Days
If you have got a lot of votes, you'll make it into the "Best of 15 days" section.
Outfits cannot be voted for here.
Buy This Look!
You can buy an entire outfit in one click, with "attractive discounts". 
Expired items cannot be bought as part of the outfit and neither can VIP items if you are a Non-VIP player.
You won't get charged for these if you're buying the whole outfit.
You can also buy individual items on their own.