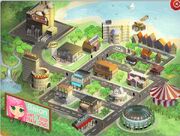 Features are different aspects of the game that make it fun. Examples of features in YoWorld are the trading feature and the badge feature.
Below is a list of all the features in YoWorld, including removed ones, in rough order of when they were introduced into the game.
An alphabetical list of features can be found HERE.
2008
2009
2010
2012
2013
2015
2016
Halloween 2016 countdown calendar
Christmas 2016 countdown calendar
Snowballs
2017
Valetine's and saint Patrick 2017 countdown calendar
Cupid arrow throwing community event
Spring Cleaning Donation Station 
Ad blocker interference detected!
Wikia is a free-to-use site that makes money from advertising. We have a modified experience for viewers using ad blockers

Wikia is not accessible if you've made further modifications. Remove the custom ad blocker rule(s) and the page will load as expected.