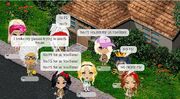 Shortly after players began to realize that the new Full Screen houses were permanent, people began protests. They were not friendly protests either. Players gathered in front of the Realtor Office in their barrel costumes. Most of the protests included throwing water balloons at the office. And the protesters at times held weapon-like handhelds to show their anger towards these houses.
The Waves
The first waves of protests began around the time it was announced that the full screen houses were here to stay. The first wave of protests lasted about a week. The next waves took place a few weeks later.
Outcome
After the protests, Zynga made no announcements on the return of regular screen homes. However in December that year, Zynga released a normal screen home, for Christmas, and continued to release normal screen avenue homes after the closure of YoWorld was announced.
As of now it is not known if Big Viking Games will be releasing full-screen homes.