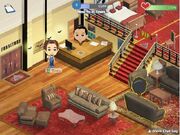 The Furniture Store is a store where players can purchase furniture for their YoWorld pads YoCoins  or YoCash. Items are available individually. The items sold are categorized by themes, and new themes are released into YoWorld regularly, more themes equals more items!
Fun Fact
Before players could buy items from their own homes, they were to go to the Furniture Store and buy the items there. The store was usually filled and crouded with people daily, before the new buy at home feature was released. Now the place is usually empty.
Exclusive Concept Artwork
Below are three original artworks of the Furniture Store, back before the game's release. Design 1 was chosen as the final design, but was altered slightly. Images courtesy of Big Viking Games. Images are dated 20th January 2008.
Ad blocker interference detected!
Wikia is a free-to-use site that makes money from advertising. We have a modified experience for viewers using ad blockers

Wikia is not accessible if you've made further modifications. Remove the custom ad blocker rule(s) and the page will load as expected.