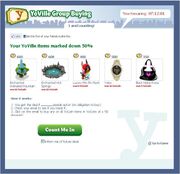 Group Buying
was a special feature/event in June 2010, allowing people to buy items for discounted prices. The whole idea of the feature is that if a certain number of people signed up for it (believed to be around 150,000), then all the people that signed up for it would get all of the items on the list. This event happened two times in YoVille, with the second time being in August 2010. The event hasn't been returned since.
The first time it happened, the five items were all YoCash items. If you signed up for the group buying, then you would have the chance to buy all those items for coins at a rate of 500 coins = 1 yocash, (one of the items was 12 YoCash, but could be bought for 600c if signed up). If you signed up before the time limit ran out, and they reached the required amount of people (which they did), then a pop-up would appear in game inviting them to buy the discounted items.
Group buying was very popular, but it never returned for a third time.
Ad blocker interference detected!
Wikia is a free-to-use site that makes money from advertising. We have a modified experience for viewers using ad blockers

Wikia is not accessible if you've made further modifications. Remove the custom ad blocker rule(s) and the page will load as expected.