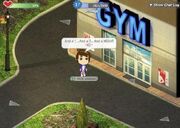 The Gym was a place on the YoVille map that was removed in September 2009 and replaced with the Salon. There was not much inside the Gym, but it had five furniture items you could purchase. These can now be found in the Furniture Store.
Items
There were five items in total at the gym that you could buy.
Basic Exercise Equipment - 250 coins
Exercise Bike - 300 coins
Deluxe Exercise Machine - 1,500 coins
Ultimate Exercise Machine - 2,000 coins

All these items can now be bought at the Furniture Store.
Exclusive Concept Artwork
Below are three original artworks of the Gym, back before the game's release. Gym A bears the closest resemblance to the final design, although none of the images closely resemble the final gym. Images courtesy of Big Viking Games. Images are dated 20th January 2008.
Ad blocker interference detected!
Wikia is a free-to-use site that makes money from advertising. We have a modified experience for viewers using ad blockers

Wikia is not accessible if you've made further modifications. Remove the custom ad blocker rule(s) and the page will load as expected.