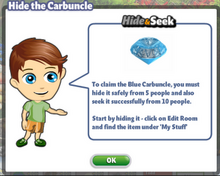 Hide and Seek was a special event feature released in 2011. The feature gave players a chance to win free items. They were given a hide-able item, which they could place under anything, even carpets. You could go to neighbors houses, and temporarily re-arrange their furniture in order to find the item. The room would then revert back to it's original order after the item was found. Your neighbors also had the ability to come to you and look for your item.
After the event was over, players were able to keep the hide-able items. If they scored enough points while looking for this item in other houses, then they got another free item that pertained to that item.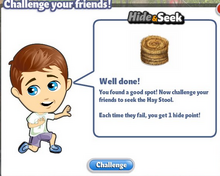 Ad blocker interference detected!
Wikia is a free-to-use site that makes money from advertising. We have a modified experience for viewers using ad blockers

Wikia is not accessible if you've made further modifications. Remove the custom ad blocker rule(s) and the page will load as expected.