The Las Vegas theme was released on April 27, 2011. The theme was inspired by the City of Las Vegas in the USA and partially by the music genre Rock and Roll.
This theme consisted of clothing, furniture, hairs, 8 rideables and 1 house.
The rideables are still available in the Car Store.
House
The house released within this theme was called Casino Yo Royale and cost 42 YoCash.
Rideables
The 8 rideables released within this theme were the following:
Item Removal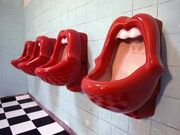 During this theme, a furniture item named 'Vegas Urinal' was released for 1,099 YoCoins. The item was inspired by the Kisses Urinal, designed by Dutch artist Meike van Schijndel in 2000[1][2], which was inspired by the Rolling Stones Logo. The Kisses Urinal can be found in several Las Vegas casino and night club bathrooms, like the Red Rock Casino.[3]
Zynga received many complaints about the item from players who found the urinal to be in 'poor taste'. After the numerous complaints, Zynga complied and removed the item on May 12, 2011. Players who bought the item were refunded.
Today this item is tradable and giftable and several are still around within the game.
Released Items
Gallery
---
References
↑ Bathroom Mania, "Kisses Urinal", www.bathroom-mania.com
↑ Meike van Schijndel, Meike van Schijndel - Info, www.coolchica.nl
↑ Bathroom Mania, "Kisses around the world!" (Image Album), sitegeny.com