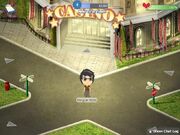 The Lucky Casino is a casino where players can gamble using YoCoins and YoCash. The Lucky Casino currently has three games available to players, known as Dominoes, Poker Dice, and Lucky Wheel.
Games
Exclusive Concept Art
Below are three original artworks of the Lucky Casino, back before the game's release. Casino A bears the closest resemblance to the final design. Images courtesy of Big Viking Games. Images are dated 20th January 2008.
Ad blocker interference detected!
Wikia is a free-to-use site that makes money from advertising. We have a modified experience for viewers using ad blockers

Wikia is not accessible if you've made further modifications. Remove the custom ad blocker rule(s) and the page will load as expected.