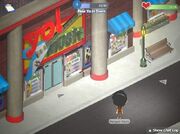 The Music Store was a store released on July 22, 2009, where players can purchase music gear, music players, and music tracks for their YoWorld characters or pads using YoCoins or YoCash. Items are available individually. Only music players and music tracks were available at the store until music gear was added to the store in September 2009.
Items
Music Gear
Music Tracks
Jazz
Speakin' Easy 
New Moon
Midnight Mover
Bossa Nueva
The Mist
The Minx
High Society
Baby Don't Go
The Stormy Sea
Uptown Shuffle
Cruisin' Speed
One Sweet Dream
More Than Ever
Ambient 
Big Bad Blue
Hologram Man
La Riviera
Red Eye Gravy
Secret Gardens
Just Like That
Deep Jungle
Special Sauce
Head Space
Sparkle Moon
Pick Me Up
Groove Steak
Intercontenental
Star Shine
Mysterious way
Below Zero
Sweet tea
Seven Song
The Vu
Mancave
Indie Rock
Road Kill
Mojo
Flow
Isotropic
Hip Hop
Straight Up
Blow Back
The Drop
Flagrant
Makin Crazy
Big Money
Last Call
Street Beat
​Rhythm And Blues
Transformer Blues
Sham-A-Lam
Baby Doll
Soft Petals
Classical
Acoustic
Soft Rock
Stars Align
Vital Signs
Lifted
Velvet Steel
Metal
Mechanized
Manic Meat
Thin Wire
The Burn
Logos Minor
Undertow
Music Players
Ad blocker interference detected!
Wikia is a free-to-use site that makes money from advertising. We have a modified experience for viewers using ad blockers

Wikia is not accessible if you've made further modifications. Remove the custom ad blocker rule(s) and the page will load as expected.