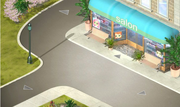 The Salon is a place where players can either rent or purchase a collection of hairstyles. The renting of hair can be done with either YoCoins or YoCash. When Zynga owned the game, hairstyles could only be bought with YoCash, Big Viking Games introduced permanent hair styles for YoCoins into the game after releasing Previously Unreleased items in mid 2014.
The Salon is split into two main sections, rent-able hairs and permanent hairs. Only a few of the rent-able hairstyles are YoCoin options, and the YoCash renting will get you nicer hairs.
The Salon opened in early October 2009 and replaced the Gym on the map.
Opening of the Salon
The Salon was opened in October 2009, to the delight of the players. People were hugely excited about having more hair options. However, hairs could only be rented at this point and permanent hairstyles didn't exist.
Hairs available to rent included the more allured "colored versions" of starter hairstyles. These hairs were particularly popular with hackers before the Salon existed. The colors were green, purple and pink. All the colored hairs cost YoCash to rent. A few new hairstyles were designed as well, with the basic colors being rent-able with coins. 
Themed Hairstyles
As the idea of renting new hairstyles become more popular among YoWorldians, developers started to design new hairstyles to fit with themes. This started with the release of 50's Hairstyles that could be rented just like all the others hairs could. These hairs then left stores at the same time as the rest of the 50's theme. Other hairs were designed too, like St. Patrick's Day hairs, Valentine's Hairs and Whimsical Hairs. These were all popular and even today fans of those hairstyles are asking for them to be brought back to stores, since they can now no longer be rented and thus there are none of them in game.
Permanent Hairstyles
Eventually the time came when fans were getting bored with renting hair. They wanted hairstyles that lasted. It was a while until this happened, because of technical limitations, but on May 8th 2010, as part of YoWorld's 2nd birthday and the "Super Saturday" sales, the first ever permanent hairstyles were available to purchase. These hairs were permanent versions of some of the rent-able hairstyles currently in the Salon. All of these hairs were 15 YoCash each to purchase. Later that month a Memorial Day special saw more permanent hairstyles, including coin options, which players were extremely happy to see.
The Salon Today
Since June 2010, permanent hairs started to be develoved for themes. These hairs would typically be 18 YoCash each, with some hairs above that price. These would be brand new hairs never before seen or rented. This excited fans in 2010, but they were praying for more coin hairstyles to be made. This, however, never happened and still to this day hasn't. Over time more hairstyles were released for each theme and ever since early 2011, a hair would be designed each week. It was a welcomed move with the players and hairs are still popular today.
Since the introduction of the VIP system in YoWorld, exclusive hairs have started to be designed for subscribers only. VIPs were also entitled to 1 free hair from the first release of each theme, and gold members allowed one from the 1st and 2nd release.
Ad blocker interference detected!
Wikia is a free-to-use site that makes money from advertising. We have a modified experience for viewers using ad blockers

Wikia is not accessible if you've made further modifications. Remove the custom ad blocker rule(s) and the page will load as expected.