The
Sky Nightclub
is a club where you can meet and chat with new people, you are also able to buy drinks that make you dizzy or make your avatar act funny or in abnormal manners. Some drinks you can currently buy are Blue Lizzy, Bobs Bad Day, Flying Bull, And Cran Dandy. Each drink has its own effect, some effects include floating, glowing, and dizzy walk.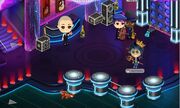 In September 2011, the Nightclub was renovated and was completely transformed, as you can see from the images on this page. When it re-opened, it brought back the Dizzy Drinks feature, although the feature was altered from the original one.
The new Nightclub has two floors and is a lot more inviting.
Items (Before)
This is how the Sky Nightclub looked like before it was renovated, here is also a list of the items that were also sold back then.
Shirley Temple
Iced Tea
Chips
Coffee
Soda
Back in 2009, the nightclub was temporarily renovated on the inside because of the MTV Video Music Awards theme that hit YoVille that year. An image of it can be found below, the changes were temporary.
Items (Now)
Blue Lizzy (Drunk walk effect)
Blue Lizzy Pack x25
Bobs Bad Day (Floating effect)
Bobs Bad Day Pack x25
Flying Bull (Flying effect)
Flying Bull Pack x25
Cran Dandy (Glowing effect)
Cran Dandy Pack x20
The Sky Nightclub is a great place to show off your moves and meet new people. It has also been rumored that celebrities have been spotted there! So, don't be suprised if you are rockin' the moonwalk and you turn and spot Lady Gaga in the room!
Old Nightclub Images
Exclusive Concept Artwork
Below are three original artworks of the Sky Nightclub, back before the game's release. None of the designs resemble the final version, but none of that matters since Zynga changed the look of the Nightclub in September 2011. Judging by the alternate names of the designs in the pictures, it seems that when the pictures were drawn, the name of the club wasn't decided. Images courtesy of Big Viking Games. Images are dated 20th January 2008.
Ad blocker interference detected!
Wikia is a free-to-use site that makes money from advertising. We have a modified experience for viewers using ad blockers

Wikia is not accessible if you've made further modifications. Remove the custom ad blocker rule(s) and the page will load as expected.