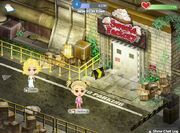 The Sweets Factory was the replacement for the Widget Factory. In the Sweets Factory, you could bake various baked goods to earn YoPoints and YoCoins. Items baked anywhere from 4 hours to 3 days.
Available Items
The following items were cookable during the time of the Sweets Factory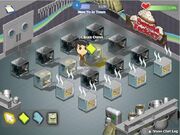 Chocolate Chop Cookies
Coffee Cake
Cinnamon Rolls
Angel Food Cake
Vanilla Cupcakes
Apple Pie
Yellow Cake
The Sweets Factory Feedback & Protests
When the Sweets Factory was announced, many YoVillians disagreed with it. Even back in September 2009, when it was first announced, developers received some negative feedback from fans about it. YoVille developer Kyle even made a blog post about it, one of only two blog posts ever made by him. Later that same day Pink Ninja posted some "Factory info and math breakdown".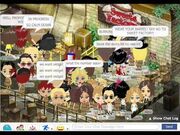 However, the fans' dislike for the Sweets Factory continued for months. 
Players took to the streets outside the factory to protest. Most protesters wore Barrel Costumes, a free gift, to represent not earning any money, thus proving their dislike for the factory.
Return to the Widget Factory
On January 8th 2010, it was officially announced by Pink Ninja that the Widget Factory was back in YoVille. She posted that The results were very clear, with the majority of YoVillians in favor of bringing the Widget Factory back to YoVille, referring to a recent survey Zynga put out asking if players wanted the Sweets Factory or the Widget Factory.
Ad blocker interference detected!
Wikia is a free-to-use site that makes money from advertising. We have a modified experience for viewers using ad blockers

Wikia is not accessible if you've made further modifications. Remove the custom ad blocker rule(s) and the page will load as expected.