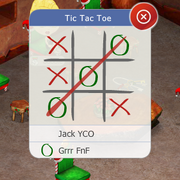 Tic Tac Toe is a mini-game that has been in YoWorld since the start of the game. It is a simple game that involves two players playing a game of Tic Tac Toe, like the name suggests.  
Winning the game will give you 10 YoCoins, drawing will give you 5 YoCoins, and losing will give you nothing.
Maxing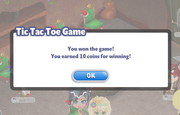 This game has often been used in "Maxing" because if the other player quits after a move, it automatically gives you the win.
In earlier years, entire parties and events were created dedicating to Maxing.