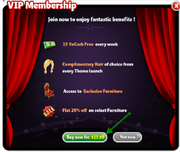 Vip Members 
are yovillians who are part of the Vip. They get access to special items and features normal players cannot access. They are the only kind of people that can become
Vip Dealers
 due to the fact that they are vip.
Advantages
They have access to different items and clothing. They also get free hair and yocash regularely. So you can expect Vip members to be more wealthier than regular yovillians as well.
Ad blocker interference detected!
Wikia is a free-to-use site that makes money from advertising. We have a modified experience for viewers using ad blockers

Wikia is not accessible if you've made further modifications. Remove the custom ad blocker rule(s) and the page will load as expected.