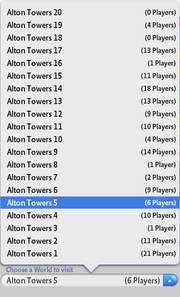 Worlds was a feature introduced on February 6, 2015. The feature was brought in with the Map's new update, allowing players to choose which server they wanted to go to when selecting a place on the map to travel to. Each world contains a different amount of players.
Trivia
With this feature, it was made clear that the Alton Towers was the most visited area on the map, maintaining over 100 different players (In different Worlds) at every point of the day.
This feature allows you to meet other YoWorlders in the game without having to create an event.