YoCash is a form of virtual currency in the game. YoCash is used to purchase premium items, like cats and dogs. Unlike YoCoins, YoCash is harder to obtain, one of the most common ways to obtain YoCash is by purchasing it using real world currencies. It can also be won during special events. It can be traded as well. It is considered a more exclusive currency when compared to YoCoins. YoCash was initially introduced as a new currency in the game on January 16, 2009.
Various items in YoWorld cost YoCash, such as chairs, beds, toilets and other furniture items. Certain clothing accessories such as hats or handhelds are also YoCash exclusive. By 2013 more and more accessories began to be sold for YoCoins, such as gloves, necklaces, and rings, even some chairs, and small stools are available for YoCoins.
Appearance
YoCash is presented in the form of green colored rectangle bills. At the center of the bill, there is a "Y" printed on it. The edges of he bill also have a modest design.
Ways to get YoCash
The Buy More YoCash tab allows you to purchase YoCash using either a credit card or a PayPal account.
Special Events can also hold chances for you to win Yocash, such as Gold Rush, free Yocash Mystery Boxes, and designer/decorating contests.
A small YoCash incentive is offered for emailing evidence of exploits to BVG's YW Bug Bounty email. 
Leveling Up now provides free YoCash to players approximately every five levels. (See Levels) 
YoCash Dealers
YoCash Dealers are players with large amounts of YoCash, they will buy you the YoCash item you want, then trade it to you for coins. They charge on a per YoCash rate.
Special Offers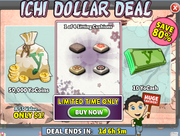 Occasionally there are special YoCash offers where you can purchase more YoCash for real world currency than on the "Buy More Yocash" tab. These offers often have items and YoCoins with them. These special offers are limited in time.
Ad blocker interference detected!
Wikia is a free-to-use site that makes money from advertising. We have a modified experience for viewers using ad blockers

Wikia is not accessible if you've made further modifications. Remove the custom ad blocker rule(s) and the page will load as expected.