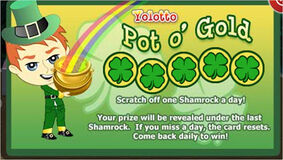 The Pot o' Gold YoLotto feature was released on May 13, 2009. It was a daily login bonus feature, where players were able to scratch off a four leaf clover (or shamrock) from a scratch card, revealing a new prize every 5th day. If a player ever missed a day, the scratch card would reset. Every day, players would win YoCoins by scratching off a shamrock, however, on the 5th day, a better prize would be given the player.
Ad blocker interference detected!
Wikia is a free-to-use site that makes money from advertising. We have a modified experience for viewers using ad blockers

Wikia is not accessible if you've made further modifications. Remove the custom ad blocker rule(s) and the page will load as expected.