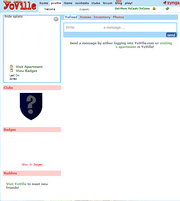 YoVille Community Site (www.yoville.com) was a free site where players were able to view the gaming profiles of other players. The current site (www.yoworld.com) now only functions as a blog created in WordPress which contains posts with important game updates.
People were able to buy items and even play the game itself on the YoVille website. These became unavailable later for unknown reasons. In 2013, the YoVille website was pulled down completely by Zynga. There were no updates as to if it would ever be brought back. It was most likely pulled down because Zynga was considering the closure of the game.
Other things people were able to do on the website were messaging their friends, viewing the dates they joined the game, and creating a status for their profile. Your homes could also be seen on the website, as well as your messages and inventory. Players also had to ability to make certain parts of their profile private, such as their messages and inventory.
Blog
The blog was another part of the website. It was used to update the players.
On February 15, 2012, the blog page of YoVille.com was defaced for a short time by a group of computer vandals who called themselves 'TBYH', which stood for 'The Best Yoville Hackers'. About a day later this was fixed. The reason this was able to happen was most likely due to poor security management.
After a while in 2013, the blog was no longer updated.
Contests
In 2009, room decoration contests were held by the developers on the website. The contests ran with votes and anyone was allowed to join in. The room that received the most votes got an award of free in-game currency and a free home. The second and third place winners also got prizes.
Notes
YoVille.com is no longer accessible. The link above leads to an archived version of the website. Around October 2015 The Vikings had announced on a podcast that a website alike it would be coming back. However, most old features won't be on there because they didn't receive the coding from Zynga. They stated they are looking into some of the old features to see which one they can code. This was put on the back burner around mid 2016.