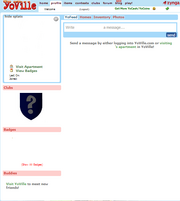 YoVille Community Site (www.yoville.com) was a free site where players were able to view the gaming profiles of other players. The current site (www.yoworld.com) now only functions as a blog created in WordPress which contains posts with important game updates.
Before on the YoVille website, people were able to buy items, and even play Yoville itself, later on these features became unavailable for unknown reasons. In 2013, the YoVille website was pulled down completely. There have been no updates as to if it will ever be brought back.
Other things people were able to do on the website was message their friends, view the dates they joined the game, even create a status for your profile. Your homes could also be seen on the website, as well as your messages and inventory. Players also had to ability to make certain parts of their profile private, such as their messages and inventory.

To login to yoville community site
Open up an Internet page and login to Facebook.
Open up another internet page or tab and type in www.yoville.com
Log in to the YoVille site using the Facebook button.
Enjoy your time on the site. 
The Blog
The blog was another part of the website. The blog was used to update the players, after a wile, the blog was no longer updated.
Contests
In 2009, room decoration contests were held by the developers on the website. The contests ran with votes. Anyone was allowed to join. In the end, the room with the most votes got an award of free in-game currency, and a free home! The second and third place winners also got prizes.
Notes
Buying and playing on yoville.com is currently unavailable.
YoVille.com is no longer accessible. Around October 2015 The vikings have announced on an podcast yoville.com now Yoworld.com will be coming back. Most old features wont be on there due to they didn't receive the coding. They stated they looking into some of the old features to see which one they can recode.

Ad blocker interference detected!
Wikia is a free-to-use site that makes money from advertising. We have a modified experience for viewers using ad blockers

Wikia is not accessible if you've made further modifications. Remove the custom ad blocker rule(s) and the page will load as expected.