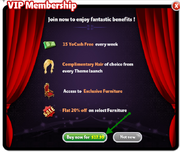 YoVille VIP is a feature that was introduced in July 2012. It allows the player to pay $17.99 a month to subscribe as a VIP. 
Benefits
Free Hair from first release of each theme
Exclusive Furniture OR Exclusive Clothing
15 free YoCash per week
Discounts on certain furniture and clothing
Special gifts given at random times
VIP Gold Membership
After being a VIP member for three consecutive months, you automatically become a Gold Member. This gets you added benefits including:
An extra 5 YoCash per week
Free hair from the first AND second release of each theme
Access to exclusive furniture and clothing
More special gifts
Trivia
This VIP feature is different to the one previously suggested in YoVille in 2008 / 09.
Buying VIP still doesn't allow access to the exclusive "VIP zone" of the Furniture Store, although players can buy VIP exclusive furniture.