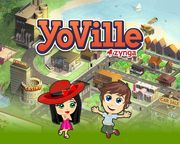 This article speaks describes aspects of the internet game, YoWorld, on a technical level. 
YoWorld (Formerly known as YoVille), is an online flash-based game available to play on Facebook. It is run by the social gaming company Big Viking Games. 
YoWorld was released on May 8th 2008 by the developers Big Viking Games, and was bought by Zynga sometime in July 2008. It currently has approximately 500,000 Monthly Active Users (MAU) on Facebook. It peaked in October 2009 with around 19 million MAU.
The game allows users to purchase premium "YoCash" (or in-game money) with real world currencies. Before YoWorld was renamed, it was the first "Ville" game Zynga ever owned.
Within the game you are able to buy houses and decorate them, buy clothing and dress up your avatar. You are also able to earn YoCoins by working for them or playing games with others. You can also meet new friends and visit them. You can even join them live and talk to them in the very same room. There are various places on the map that you can visit, there are currently around 20 places that can be accessed by map. In each area on the map you can meet and chat with new people.
Historic events
On 10th January 2014, Zynga announced the closure of YoVille on 31st March 2014, a move that sparked protests and even an offer from Big Viking Games to consider buying back YoVille from Zynga.
On March 5th, 2014, Zynga had canceled the planned closure of YoVille on March 31st. The game would remain open while Zynga and Big Viking Games discuss next steps for the game.
On April 24th, 2014, Zynga and Big Viking Games announced that YoVille was sold and was renamed to YoWorld. This caused happiness, and celebrations took place right away. 
Ad blocker interference detected!
Wikia is a free-to-use site that makes money from advertising. We have a modified experience for viewers using ad blockers

Wikia is not accessible if you've made further modifications. Remove the custom ad blocker rule(s) and the page will load as expected.