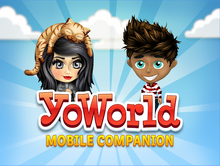 The YoWorld Mobile Companion App is a companion game to its mother game, YoWorld. The mobile app was released on August 25, 2016, and is currently only available in IOS and Android. This app acts as a supplement, and not a replacement to YoWorld. Players can win and earn bfree YoCoins and YoCash within the companion app, which then they can send to their YoWorld account. As of now, it is not possible to play both YoWorld and the Companion App simultaneously.
Match Three
There is an unnamed version of the popular match three jewel games within the app where completing different levels at various tiers of difficulties can earn the player YoCoins.
Slot Games
There are a few slot games available within the app, they're listed below. A new game is unlocked every ten levels a player accomplishes, and currently, more and more are expected to come out in the future.
Emerald City - Unlocked at Level 0
Gold Rush - Unlocked at Level 10
Atlantis - Unlocked at Level 20
Lucky 7s - Unlocked at Level 30
Ad blocker interference detected!
Wikia is a free-to-use site that makes money from advertising. We have a modified experience for viewers using ad blockers

Wikia is not accessible if you've made further modifications. Remove the custom ad blocker rule(s) and the page will load as expected.