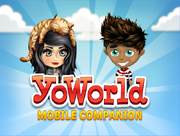 The YoWorld Mobile Companion App is a companion game to its parent game, YoWorld. The mobile app was released on August 25, 2016, and is currently only available in IOS and Android.
This app acts as a supplement, and not a replacement to YoWorld. Players can win and earn free YoCoins and YoCash within the companion app, which then they can send to their YoWorld account. As of now, it is not possible to play both YoWorld and the Companion App simultaneously.
Daily Quests
Every day there are 5 daily quests that can be done in order to collect more YoCoins. The rewards differ from quest to quest and are usually between 4,000 and 10,000 YoCoins. The daily quests are usually as follows: 2 slot machine quests, 1 treasure collection quest, 1 'collect bonus' quest where you need to collect your 4-hourly bonus 4 times and 1 'gift to friends' quest where you need to send 10 gifts to friends.
Treasure Collection
Treasure Collection is a version of the popular Bejeweled[1] game within the app where completing different levels at various tiers of difficulties can earn the player YoCoins.
Slot Machines
There are a few slot machines available within the app where you can bet with either YoCoins or YoCash. When playing with YoCash you can win 3 Jackpot Prizes: Bronze, Silver and Gold. Those are usually items. Those items can also be directly purchased in the app for 100 YoCash for the Bronze Jackpot item, 200 YoCash for the Silver Jackpot item and 500 YoCash for the Gold Jackpot item.
With the slot machines, it's also possible to win free items that get sent automatically to your YoWorld account on Facebook.
A new game is unlocked every ten levels a player accomplishes, and currently, more are expected to come out in the future. Below is a list of the slot games currently available within the app.
Emerald City: Unlocked at Level 0
Gold Rush: Unlocked at Level 10
Atlantis: Unlocked at Level 20
Lucky 7s: Unlocked at Level 30
Adventures in Wonderland: Unlocked at Level 40
While playing these slot machines, you can view the paytable by tapping on the wrench icon on the bottom left of the screen which will pop up a window where you can click on 'paytable'.
Golden Spin
Golden Spins give additional level experience to the player while playing slot machines. Every 15 minutes and 30 seconds you receive a golden spin up to a maximum of 10 golden spins.
Levels
There are currently 50 levels in the app. Every level the player receives a small YoCoin reward and at certain levels an additional reward. These are the following:
Level 7: Free Item
Level 9: YoCash
Level 11: YoCash
Level 13: Free Item
Level 15: Free Item
Level 19: Free Item
Level 22: YoCash
Level 28: YoCash
Level 32: Free Item
Level 33: YoCash
Level 39: Free Item
Level 50: Free Item
Currency Transfer
The YoCash and YoCoins earned on the app can be sent to your YoWorld account on Facebook. You can do this by tapping on mini wallet icon on the bottom right of your screen and then by typing in the amount of YoCash and YoCoins you'd like to transfer. The full amount gets transferred and there is no fee for this.
Buy YoCash/YoCoins
Through the app, you can also buy YoCash and YoCoins by clicking on 'Buy' on the bottom left of your screen. The rates are the same, though sometimes there are promotions on YoWorld on Facebook you won't have in the app and vice versa.
Gallery